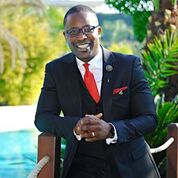 Olusola Andrew Omole is the founder and chief executive of WMB Childcare Ltd, Andrew combines hands-on experience of running successful nurseries with an MSc in Leadership and Business Management.
Andrew is an advocate for the power of strategic vision to drive organisational development. His entrepreneurial approach brings insights to help businesses adapt, survive, and thrive. Today, the young man who earned just £4.50 an hour in 2002 working in a retail shop within a petrol station leads a workforce of over 85 that heavily relies on his visionary and altruistic leadership to realize its full potential.
Andrew believes that people are daily discovering themselves and your job as a leader is to support and inspire them on this journey of discovery as you give them the room to thrive and flourish. A skilled mentor, trainer, and life coach, Andrew is the creator of the highly-regarded platform OAO Born to Win. A specialist in strategy and leadership development, he can construct bespoke one-to-one or team-based training to tackle organisational challenges and take professional performance to the next level. Andrew is a serial entrepreneur, a straight-talking mentor, and an empathetic counselor. He has been adopted into the Zig Ziglar family and is certified as a Zig Ziglar Legacy Trainer with a mandate to propagate Zig Ziglar's message of hope.