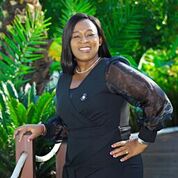 Folake is WMB Childcare's Director of Operations. Described in one of our Ofsted reports as an "inspirational manager", she is an expert in child development and committed to delivering first-class childcare.
Folake is known for her happy personality as you will not miss a smile from her. Folake is passionate about reaching out to people and supporting them to achieve greatness. Folake has a wealth of experience in early years settings, achieving top Ofsted assessments at our first three nurseries within just 5 months of their acquisition.
Approachable and dedicated, she is passionate about helping other providers to deliver the same standards. She was recently a finalist at the recently held nursery world award 2019. She has worked really hard to see the company become a household name with Manchester and Greater Manchester.
Folake's heart desire is to reach out to more families, support them in building a solid early years foundation of their children and ensure that opportunities are given to children to develop no matter their current neighbourhood status.